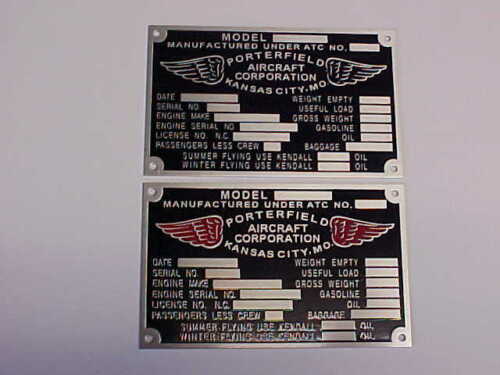 on eBay: https://www.ebay.com/itm/201805755821?ul_noapp=true
The data plate is blank and ready for your restoration. It measures 2 1/2" X 4". Nostalgic Reflections can stamp the numbers you need at an additional cost of $10.00 per pad. This plate has 14 pads. You have a CHOICE of brass or aluminum. Please advise after the sale which you prefer. Brass Part No. PPS-0054 and the Aluminum Part Number is PPS-0150, also red or black wings. Advise after the initial sale.
NOTE: BEFORE MOUNTING THIS ON YOUR VINTAGE AIRPLANE, PLEASE REVIEW FAR 45.13
Insured shipping and handling in the USA is $8.00 and International is $29.75 for "Registered" trackable mail.
I've seen these and Jerry does very nice work! I lent him my dataplate for him to copy his mask from.